Life on the Road Blog: Connecting With Customers
June 2022, by Scott Obernberger
Smile, Tell Them Your Story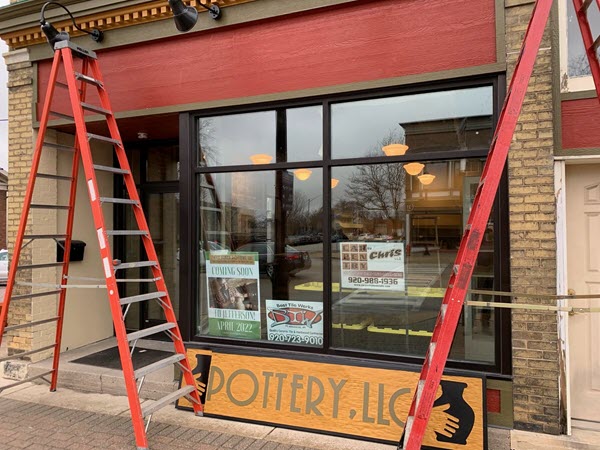 (click an image to open)
Well, construction is almost complete (other than some last-minute finishings), and we're all moved in. Now I just have to find everything and get back into production! 
At the same time, we are getting ready for our grand reopening and several events linked with the chamber of commerce, as well as organizing for a very full show season. If you have a brick-and-mortar location, be sure to get involved with your local chamber of commerce and/or downtown association. 
Oftentimes, they will open many doors for you and help you get connected to other members of the business community. Connections, whether you have a storefront or rely on selling at shows or through consignment, are incredibly important. 
Get Connected 
Last month I wrote a bit about developing ongoing business relationships (which can turn into friendships) with promoters and the people who make our careers possible. Many of us do multiple shows with the same promoter. 
This can make planning and scheduling much easier as they will often allow you to submit one application for multiple events. Additionally, the promoter already knows you, your work, and how well you work with others. 
Given the large number of shows in my schedule, I try to work with multiple promoters in multiple states/regions. This allows me to keep my "portfolio" diversified and get the benefit of serving multiple areas. I usually try to return to the same city/area two to three times each year — this encourages repeat sales and special orders. 
In addition to "getting connected" with your promoters, make connections with your customers. Talk to them. Engage with them. People go to art shows to see beautiful things, buy art, and have fun. Have fun with them. 
Don't be afraid to joke around where appropriate and always greet people when they walk into your tent/booth. People want to be acknowledged, and the vast majority want to interact with you.   
I have been to too many art shows where I watched artists sit in the back of their tent, focused completely on their smartphones as they all but ignored the customers who visited their booths. You could almost sense a palpable fear coming from them when it came to engaging their potential customers. This is the perfect way to be disappointed with your day's sales and be bored out of your mind. 
Many artists believe they shouldn't make the first move when customers come into their booths. Many feel that doing so is seen as too aggressive and scares customers away. 
There is a huge difference between being conversational and being a carnival barker. My experience is that for each rare instance where the person doesn't want to talk, there are at least 20 who do. 
Read people's body language — you'll know who doesn't really want to interact. Still give a brief greeting and then let them make the next move. 
As for the other 20, a smile is always a great ice breaker. By connecting with your customers, you get the chance to sell your art, your process, your experience, and your work to them.  Most people are not just buying your painting or my vase, they are buying your story. Don't be afraid to tell them your story. Now it's not just another pretty vase. It's a story that they can tell their friends and family when they show off your work. 
All our lives are ultimately a collection of stories that are shared with others. Don't be afraid to share yours. 
Additionally, when you connect with your potential customers, you become part of the experience for them. Both of you will have fun. You'll make some friends. It makes the time go by, and you will exponentially increase the odds of making a sale. There's a reason they teach people to engage and connect with customers in retail. 
When you are doing shows, you are engaged in a different artform — the art of communication. It might be a bit scary and uncomfortable at first, but power through it and soon it will be like second nature. 
When I practiced law, I joked that my primary goal during the first year was to maintain bladder control in court (for the record, I met my goal). Nothing comes naturally. You have to work at it. But with a little practice, you will find that, as you embrace your new extroverted self, the old way of sitting in the background and barely interacting will become awkward and uncomfortable. 
Color Outside the Lines 
How many times have you passed over an opportunity to sell your work because the venue was outside of your traditional schedule? COVID-19 forced me to re-think the types of shows that I would participate in and give things a try that I might not have otherwise considered. 
I do an art and gift expo every year with a company that primarily does home and garden shows. At the height of COVID-19, as all my "traditional" shows were being canceled, the home and garden show company contacted me and asked if I would consider doing some of their shows.  
At first, I was leery — my neighbors would be home remodelers, window companies, and landscapers. I asked them whether they thought I would be a good fit. Thankfully, they were very positive and encouraging. I tried one on for size and was very pleasantly surprised. Because of this "leap," I now do six to eight home and garden shows every year, usually during the off-season before traditional art shows start up. 
If I hadn't taken the chance, I would have lost out on many great opportunities that opened up thanks to this company's encouragement. Be open to new things and new ways to sell your art. 
Promised Tales of Terror 
Last month, I mentioned my hotel curse. Though it is early in the season (I'm just wrapping up my home and garden show circuit in Columbus, Ohio), the curse is re-awakening. 
Last year's curse included (at its worst) a raccoon-infested private rental where the electrical service was entirely by extension cord, the water was actually liquified rust, and the entire place smelled of moth balls and was sticky. 
The good news is the curse is not starting this year with quite so much gusto, though I am concerned. I try to stay at mid-priced hotels with a pretty good reputation. I don't know that it matters.  
I am now on my second room for this trip. As I checked in, there were half a dozen police responding to a situation in a neighboring room. My first room didn't lock (yes, you should always check). This evening (ironically, even as I write this) we have now had two fire alarms go off. 
I am convinced that God has a wonderfully twisted sense of humor and likes to tease me when it comes to my hotel experiences. Since this is night two of four, it will be interesting to see what else is in store for me! 
My first outside show of the season will be Tulip Time in Holland, Michigan, and I look forward to seeing all my Michigan friends soon. Till then, stay safe and have fun getting ready for the season! 
About the Author
Scott Obernberger runs Twice Baked Pottery in Jefferson, Wisconsin. The former attorney will discuss his creative journey and the lessons he learns along the way in this column for Sunshine Artist. Learn more about Scott and his business at www.twicebakedpottery.com.