No. 1 in Fine Art & Design - St. James Court Art Show
September 2023, by Angie Landsverk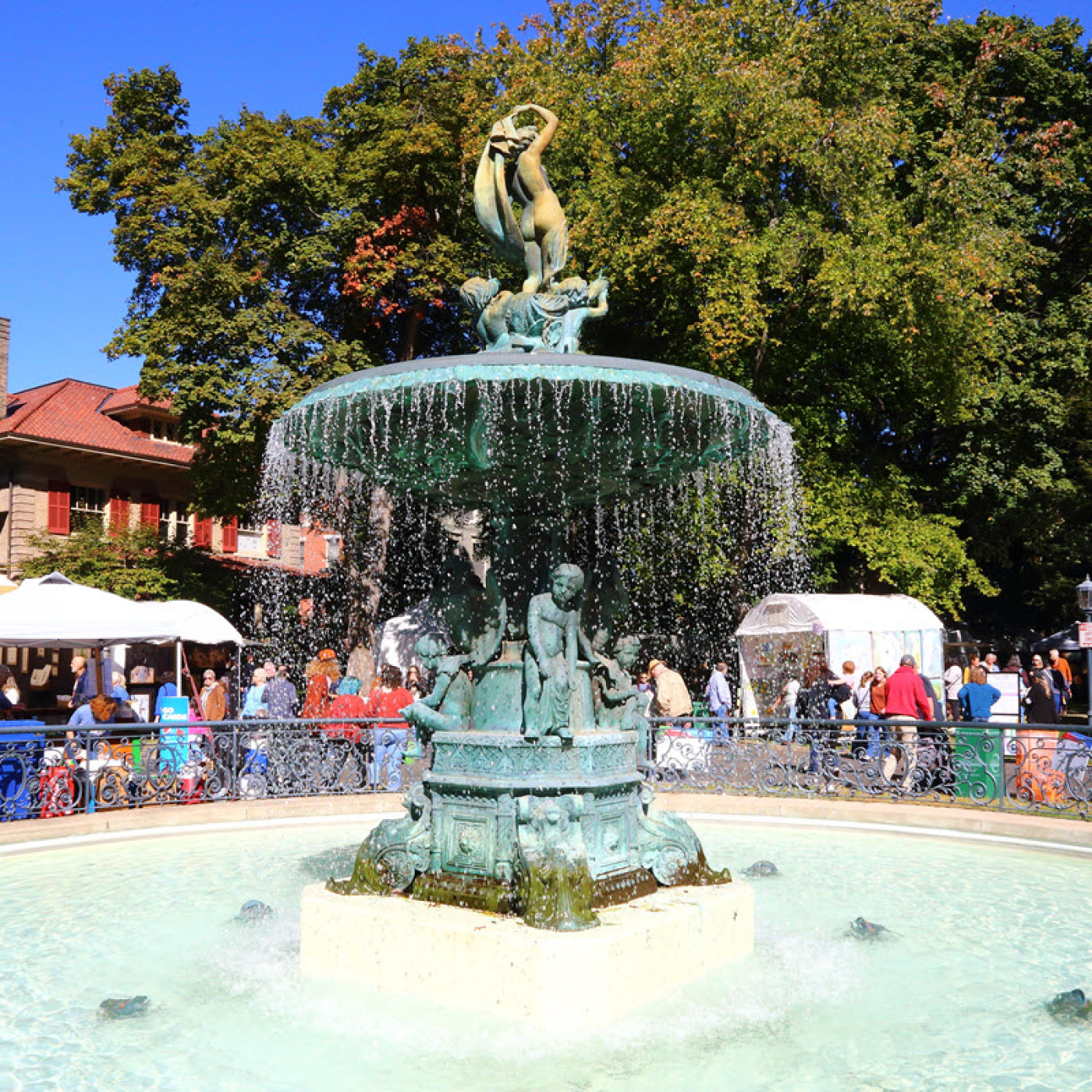 The St. James Court Art Show is a juried event featuring more than 600 artists from throughout the United States. Recognized as one of the longest-running and most awarded art shows in the nation, the sales artists made last year put it at the top of the Fine Art & Design category once again in Sunshine Artist's 200 Best for 2023. 
The Kentucky show is held among the country's largest collection of Victorian homes, in the heart of historic Old Louisville. This four-square block, outdoor art show takes place annually on the first weekend of October — on Friday, Saturday, and Sunday. 
Howard Rosenberg, the show's executive director, and Karen Clayton, the section director, are sharing a bit about the show's past, its jurying process, and why they believe artists are so successful at it. 
Sunshine Artist (SA): St. James Court Art Show consistently ranks as one of the top Fine Art & Design shows in the country. How does it feel to again be voted the top FA show? 
St. James Court Art Show (SJ): We are very honored and humbled by being selected as the No. 1 Fine Art & Design show in the country once again. We are always surprised by the selection because, for us, it is always about the artists. We never plan on what we need to do to be No. 1. There are two main areas on which we always focus. One is our patrons and creating the best and most unique venue possible. The other is our sincere belief that the artists always come first. This is our history and our legacy. 
SA: Share a bit about the show's history, venue, artwork, attendance, and demographics. 
SJ: St. James Court Art Show is in its 67th year. Our attendance numbers make us the largest free, three-day event in Metro Louisville. With 17 different artistic mediums and a range of price points, it offers something for every type of art buyer. The national preservation district of Old Louisville boasts the largest contiguous collection of Victorian mansions in the United States, making it one of the most unique venues in the country. 
SA: What is the process for jurying artists into the art show? 
SJ: St. James Court Art Show is made up of five independent shows under one management. Each section accepts its own applications. Each section has its own jury process and scores artists according to its own criteria. Applications are not shared between sections. 
SA: What amenities are provided for artists? Are awards presented? 
SJ: An average of 600 exhibitors participate in the show. The St. James Court Section is the original location and hosts approximately 200 artists. The Belgravia Court Section has about 75 exhibitors, the Fourth Street Section has around 150 exhibitors, the Third Street Section usually has about 100 exhibiting artists, the 1300 Association Section typically has around 76, and the West End Baptist Church Section hosts about 16 exhibitors. 
Artist amenities include booth sitting, water and snacks delivered to booths, designated artist parking with some areas free, reduced-rate hotels, art staff on-site all hours of the show, and 24-hour security. 
Each section of the art show has its own awards program. The St. James Court Section awards one $5,000 Founder's Award to the Best in Show from the new St. James Court located in the designated area of the Inner Courts on St. James Court. 
SA: Artists base their nominations for the 200 Best list on one thing — where they made the most money. Why are artists so successful at your show? 
SJ: It is a combination of things. It's our long history, year-round marketing efforts, unique setting, and dedicated leaders and volunteers who help make St. James Court Art Show as successful as it is. 
SA: What advice do you have for artists who are thinking about applying in the future? 
SJ: My best advice is to visit our event and talk to their fellow artists. Our best ambassadors are the artists. All sections of St. James Court Art Show are juried. Which artists get invited each year depends on how many applications we receive and how many applications in each medium category are received. We are working on developing an Emerging Artists program to assist artists new to the art show circuit. 
SA: Is there anything else you want artists to know about the show? 
SJ: We want our artists to know our success depends on their success. They come first. We think of them as part of our family.