Market Your Show Now
Ways To Maximize Advertising and Make Sales
September 2023, by Myra Starnes, Leisure Time Unlimited
Leisure Time Unlimited promotes The Dickens Christmas Show and Festivals throughout the year, using social media platforms and other marketing campaigns. 
Months prior to the event, our company enters contests and promotions offered by many media, including magazines, seasonal publications, local publications, and national offerings. We find these are the top methods to spread excitement and increase attendance year after year. 
We continue our major media marketing campaign 90 days out from the event with radio and TV ads, including individual and bulk giveaways/contests that partner with local community businesses, providing information about what the area offers while attending the show. Save the Date flyers, event posters, media-ready articles, and photos are received by radio, news, and TV stations months prior to the show so they may be circulated among attendees at their own promotional events, as well as their articles, commercial lineup, and individual social media platforms. 
Free show tickets are given away for promotional campaigns. Vendors receive flyers each August, so they can offer information at other scheduled events. Vendors seen with flyers at other events are added to a drawing for prizes, such as free event tables, parking, and food at the show. 
Billboard ads start surfacing approximately six weeks from the event's start date. Our reputation as a national, award-winning event grows each year by marketing to women's groups, tour groups, churches, and seniors. 
We use marketing efforts like direct mailings and billboards that have worked in the past and use new website technology and media platforms like Facebook to market our show and tune in to wants and mindsets for the holiday shopping season.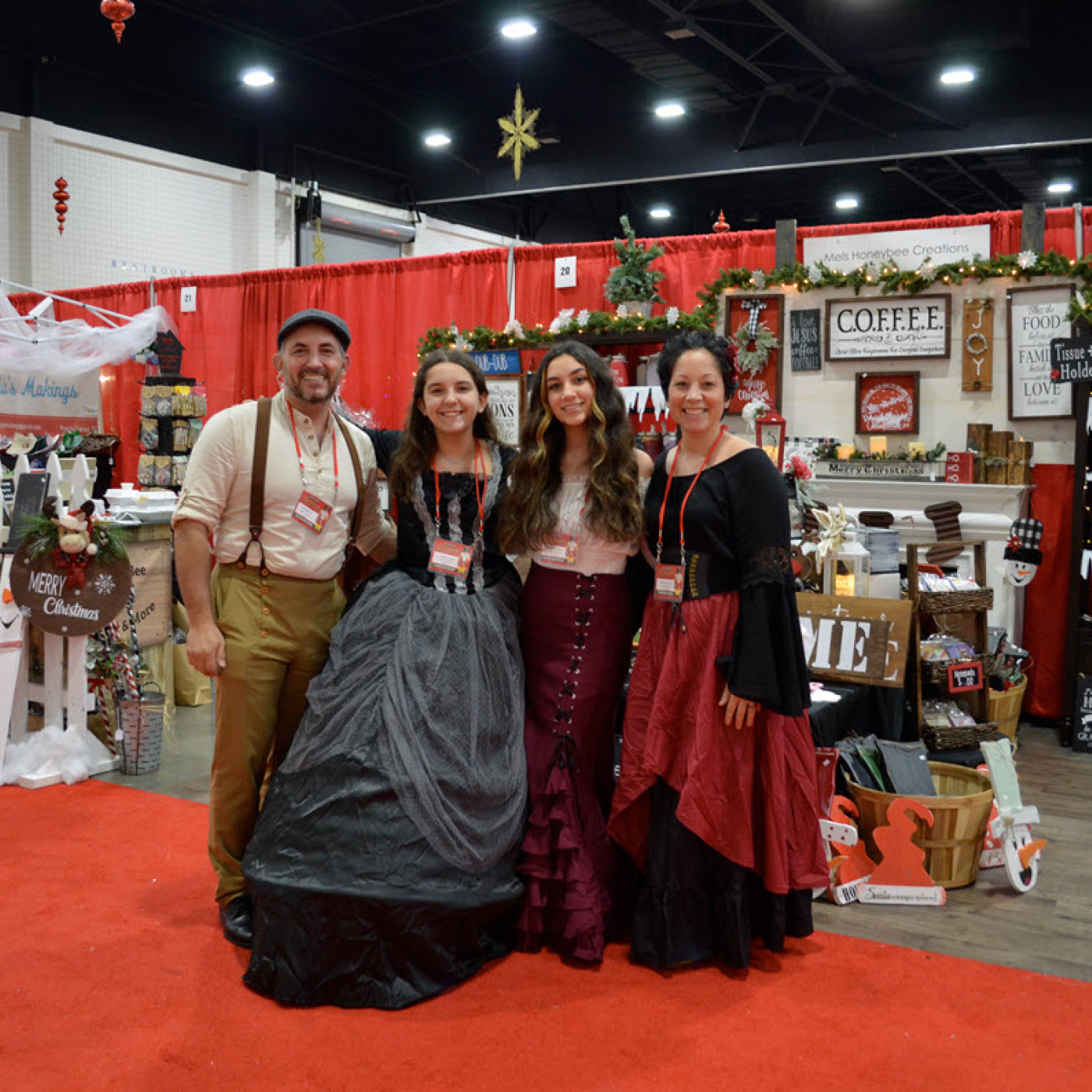 The Online Presence
We include photos from the previous year's event, highlighting the artists who attended. Every year, our Facebook page and website are updated to include custom advertisements, as part of the vendor package, to benefit the show's exhibitors. 
Artists can display their work and information about the type of art offered at the show, company information, their email address, and photos of their work at no extra cost. The ads stay on our Facebook page for three years after each event. 
Exposure continues throughout the year as we update the information and post new happenings on Facebook. We also include vendor contests and giveaways as a show benefit. We offer a Facebook "Like & Share" contest where vendors can be rewarded with show prizes. 
Each year, the vendor who has the best booth presentation and period costume/character automatically earns a place in the following year's show. The winner is featured on our Facebook page for weeks after the show. 
Advice for Artists
Social media platforms offer a variety of inexpensive marketing for artists to use, creating excitement leading up to the event. We recommend artists begin their marketing campaign after signing up for the event. 
Create a buzz on social media platforms, highlighting items specific to the show, sales specials, and photos of the creative costume that will be worn at the booth to cultivate more traffic flow to the booths. 
Posting updates on the show's Facebook page helps expand the customer base. Eblasts are a wonderful way to spread an artists' booth location, show specials, and giveaway offers for the upcoming event. 
Eblasts are also a fantastic way to reach out to customers (old and new) and remind them of upcoming events so they can follow the artist's progression and celebrate their successes. 
We recommend artists follow up after each event with information about the show's success, giveaway winners, and photos to attract new customers each year. 
During the Show
Artists can market themselves and their work for future sales by ensuring customers have easy access to their company information through business cards, brochures, and printed materials. Always include the website, email address, and phone number for future sales opportunities. 
Printed marketing items sometimes get lost in the shopping shuffle. Have company information on signs or placed in frames atop the sales tables so potential customers can take a snapshot from their phones. 
Be ready for easy marketing opportunities like photos. Shoppers show and share photos, offering unsolicited marketing moments. 
Samples and giveaways are a great ice breaker and way to ask people to sign up with their email address for future newsletters, mailings, and upcoming sales specials. 
We see artists continue making sales after we send our Mother's Day email reminder. Our Facebook artist advertisements have been called the "Mall in the Sky" for purchase information years after an artist participated in a show. 
Attendees search for "that special coffee mug" for Father's Day or "those beautiful earrings I saw at the show" for Mother's Day well after the show is over and the business card is lost.  
Our company creates excitement to kick off the holiday buying season and continues marketing artists with our Facebook ads throughout the year. This gives attendees a chance to search before and after the event — ensuring everyone finds success before, during, and after the event.