Show Review of the Month Stone Arch Bridge Festival
March 2023, by Sunshine Artist Editor
June 18-19, 2022, Stone Arch Bridge Festival, Minneapolis, MN. Contact: Stone Arch Bridge Festival, Sara Collins, 900 Wayzata Blvd. E., Wayzata, MN 55391; Phone: 952-473-6422; Email: saracollinsemail@gmail.com; Website: stonearchbridgefestival.com; Application fee: $35; Space fee: $450; Space size: 14x10; 100% outdoors; Exhibitors: 250; Attendance estimate: 75,000. 
Compiled from FastAudit reports 
The Stone Arch Bridge Festival is held on Father's Day weekend in Minneapolis. More than 200 artists participate in this show. Many of the artists who reviewed this year's event were pleased with their sales, with some artists providing feedback for the promoter related to the festival's location and load-in process. 
A ceramicist who made $2,200 would participate again. "Good foot traffic, very well-known festival. I'm hoping the bugs get worked out in coming years," the artist said. "Load-in was stressful, as our booth was partially set up when we were moved to a different spot. The people who were helping with load-in all seemed to have different information, which was confusing, and several artists were upset. I understand it is a new location but am hoping by next year some of the issues will be ironed out." 
An artist whose mediums were ceramics and painting said the sales and the people of Minneapolis were great. "The people who run the event are well organized and care about you as a person," said this artist who had $2,000 in sales and would do the show again. 
A metal artist would also like to be invited back. This artist made $1,700 and described the location as nice and the event's staff as helpful. 
Sales for one art glass artist totaled $2,000. "This is a great show. The timing kicks off festival season, and because it's along the Mississippi River, I think the festival draws lots of attendees," the artist said. "I first participated last year and had great sales. This year was about 30% less, but I'm sure that is because Sunday was so hot people couldn't be bothered to shop or duck into booths." The artist described it as a well-run show and looks forward to participating next year, saying that "most attendees are super nice, and I rarely have any negative interactions with people." 
A jewelry artist who made $2,500 last year made about $975 this year. "Never been my crowd," the artist said. "Buyer wariness due to inflation ... weather too hot? Sunday is always locals on their Sunday walk ... not customers." This artist appreciated assistance from the event's staff. "I was wearing a boot and the show was kind enough to find me a parking spot under a bridge very close to my booth. When I was close to heat exhaustion taking down, they found me help when I asked," the artist said. 
The sales total for a different jewelry artist was $7,000. "This show is well organized and attended. People are definitely attending to shop. These are some of my best sales of the year," said this artist who would participate again. 
A wood artist with $3,400 in sales said, "It's one of our best shows for sales. The venue is also beautiful and well situated next to the scenic river and bridge. Plus, it has all the amenities of downtown Minneapolis." 
Sales for a different wood artist totaled $1,000. "Awesome foot traffic regardless of weather. People do come to make purchases," this artist said. 
A fine art artist who made about $3,200 said, "As a first-time artist at this market, my only feedback to give would be to have the booth numbers more easily visible for vendors coming in — especially with it being a one-way street. Having the numbers written on duct tape on the curb made it very easy to miss." This artist also said, "A great team organized the show; hospitality was above my expectations on such a hot weekend. Also, the location is big — very great exposure for our brand." 
A fine craft artist said the "new layout is very nice on this other side of river. However, it is too spread out, and people were like a cattle call, kept on walking. There was a lot of buy/sell, low-end work. Not many of the A- or B-level artists in town do this one, not many art patrons. It's more of a craft show." This artist had $2,800 in sales and would not participate again. 
However, a ceramicist who made $3,200 would do the show again. "Worth it!" said this artist. 
Sales for one fine art artist totaled $2,050. "Amenities and judging were not bad, but I was not made aware of amenities until partway through the show, and I did not hear who won judging," this artist said. "Great turnout considering there was an extreme heat warning. This was a new location for the show, so I understand layout complications. They were quick to respond and understanding about last-minute layout changes to better serve artists." 
A wood artist who made $2,500 described it as a great event and hopes to participate again. "The only thing that could have been improved is the layout of the event. Artists located at the furthest end away from the Stone Arch Bridge did not see nearly as much foot traffic as those closer to the bridge, which seemed to be the central area/starting point of the event. The booth layout was so long (geographically) and spread out that not as many people made it all the way to the end booths (booth numbers 175+ approximately). This problem was made worse by there being no attractions (food, drinks, music, etc.) beyond the aforementioned booths to draw fairgoers all the way to the end of the event. There not being a single, clear 'thoroughfare' where fairgoers walked could also have been a contributing factor to low foot traffic in the higher booth numbers," said this artist. 
A printmaker said, "I thought it was really well run, and I had a lot of fun! It was my first big show, and I felt very prepared and informed." This artist made $1,500 and would like to do the show again. 
A fine art artist who did not report a sales total was among the artists who saw Sunday's extreme heat as affecting attendance and sales. "Best show for me but Sunday was super hot and very low attendance compared to previous Sundays in past years," the artist said. 
An artist whose mediums were fine art and mixed media thought attendance was high despite the weather. This artist also did not report a sales total and said, "I couldn't give a painting away at this event." 
A photographer who made $2,100 said it was a good show overall. "I'd do it again if only I have the same spot facing the river. The severe heat resulted in people, attendance, and sales dropping to almost zero after 3 p.m. Not the venue's fault obviously," the artist said. This artist said organization was lacking a bit in the beginning, with check-in people showing up at the last minute and teenagers having no idea which way booths were supposed to face. "A staff meeting would have precluded all the confusion. Other than that, during the show, it went well. Sunday afternoon was ungodly hot with a heat index over 105 degrees. The staff let us close and break down early due to the heat. That was thoughtful of them," the artist said. 
A jewelry artist who had $3,000 in sales said, "I did not think we did as well at this show because of the layout. The entire show was so long it would take someone an entire day just to walk the whole thing. We were placed at the very end. We heard from some people who came in on our side they didn't make it through the whole event because of the length and 100-degree weather. On top of that, the tents were lined in two rows but not all tents were open on the side facing us. It made people have to choose which side to walk, on top of it already being a really long festival. The layout is why I for sure will not participate in this event again. We made less than half the sales we made at our previous event that took place two weeks prior." 
One wood artist made $6,000 at the festival. This artist provided feedback for the promoter. "This was my second year participating in the Stone Arch Bridge Festival, the last time being in 2019. Although I think moving things across the river has been successful, I do think they could be a bit more condensed and not as spread out. I heard from a lot of artist friends that they saw a lot of attendees opt to not continue down the entire stretch of the festival and stop to turn around back towards where they parked (this could partially have been due to the heat factor added in). 
"One other thing I wish was a little bit clearer from the start was the parking situation for artists. Since we didn't get the address of the lot until check-in, I wasn't sure how that was going to be. It ended up being nearly a full mile walk away from where my booth location was — some artists being even further. If you're doing this event solo, which many people do, that is a long way to walk after the long days/packing up for load-out. I understand city parking is a challenge in itself, but if I recall from 2019, there was some sort of artist shuttle that dropped vendors off closer to the actual area. Had I known the parking situation, I would probably have opted for finding my own parking in a closer ramp instead of paying at the time of booth fees — mainly so my stuff for load-out didn't have to be sitting unattended for nearly 40 minutes while I walked back to my vehicle and then waited in line to get back to my spot.  
"This is overall a great event with great attendance that provides the opportunity for me to bring my work to the Twin Cities area. I typically only do two to three events in the cities a year, and this has been a great event to be a part of. I've sold out of some of my products both times I've participated," the artist said. 
A painter who did not report a sales total wants to participate again but in a better location. "Most people did not make it down to the area I was located at the end," this artist said. 
An artist whose medium was drawing made $7,800 and was frustrated about not being able to drive in on Sunday morning to drop off a cooler and some heavy items due to a race artists were unaware of. This artist would do the show again, though. 
Sales for one wood artist totaled $2,500. This artist is not interested in participating again and said, "The organizers are trying to do too much — a vintage market, multiple music stages, culinary markets, BIPOC market (I'm totally fine with that idea, of course), car show. It's too many things happening at once, and the festival was over a mile long. The art fair part of the festival gets diluted down. Lots of attendees, few sales." 
However, a different artist does want to exhibit in the future. "I love this show! Great location, awesome artists and attendees!" said the artist who made $1,800. This artist provided feedback about the festival's hours. "I think the hours of the show could shift based on the amount of people walking through that I noticed. I think on Saturday 10 a.m. to 5 p.m. is sufficient. It was very slow from 5-7 p.m. because most people are going out to dinner elsewhere at this time. On Sunday, 10 a.m. to 5 p.m. is OK but could even be 10 a.m. to 3 p.m., as it also slowed down from 3-5 p.m.," the artist said.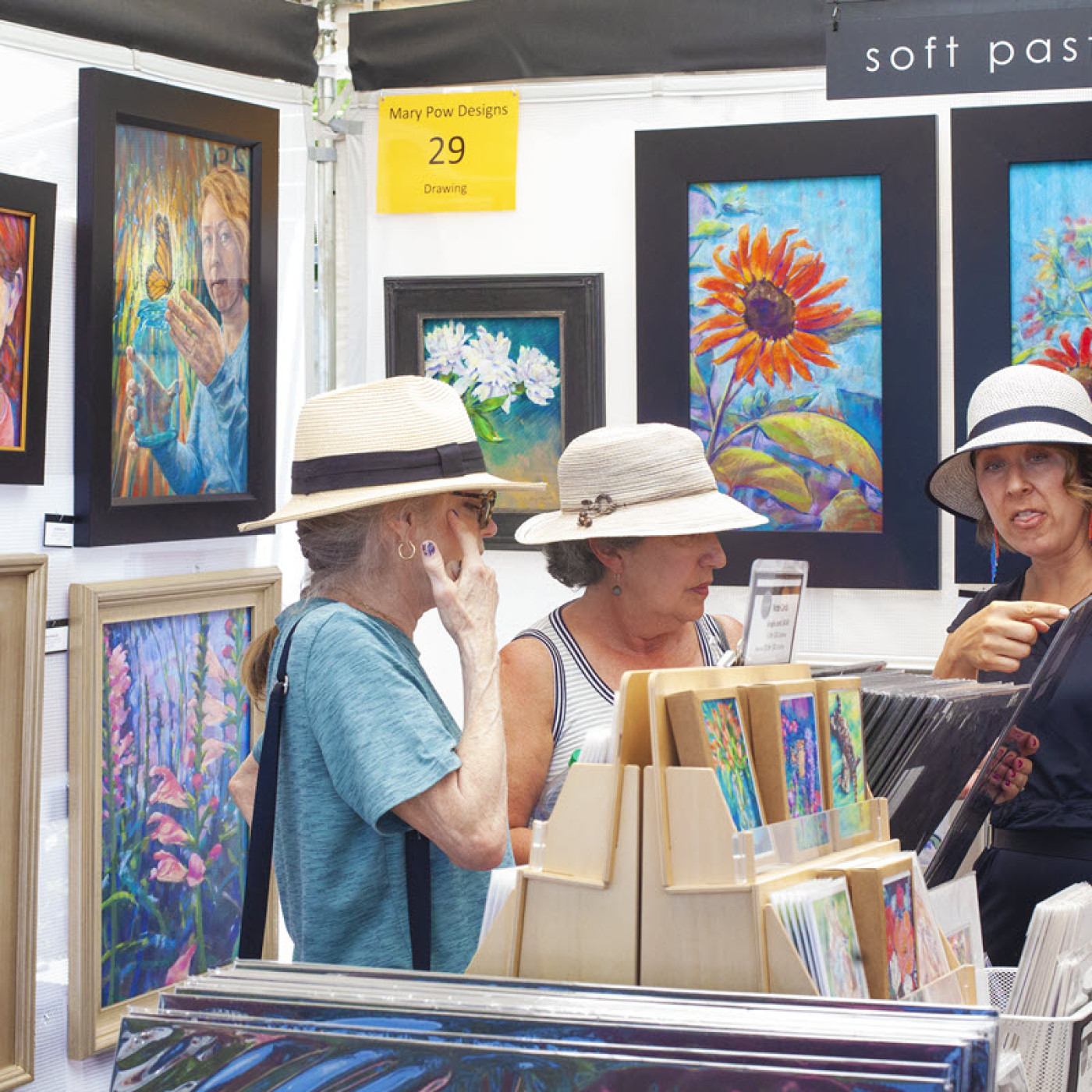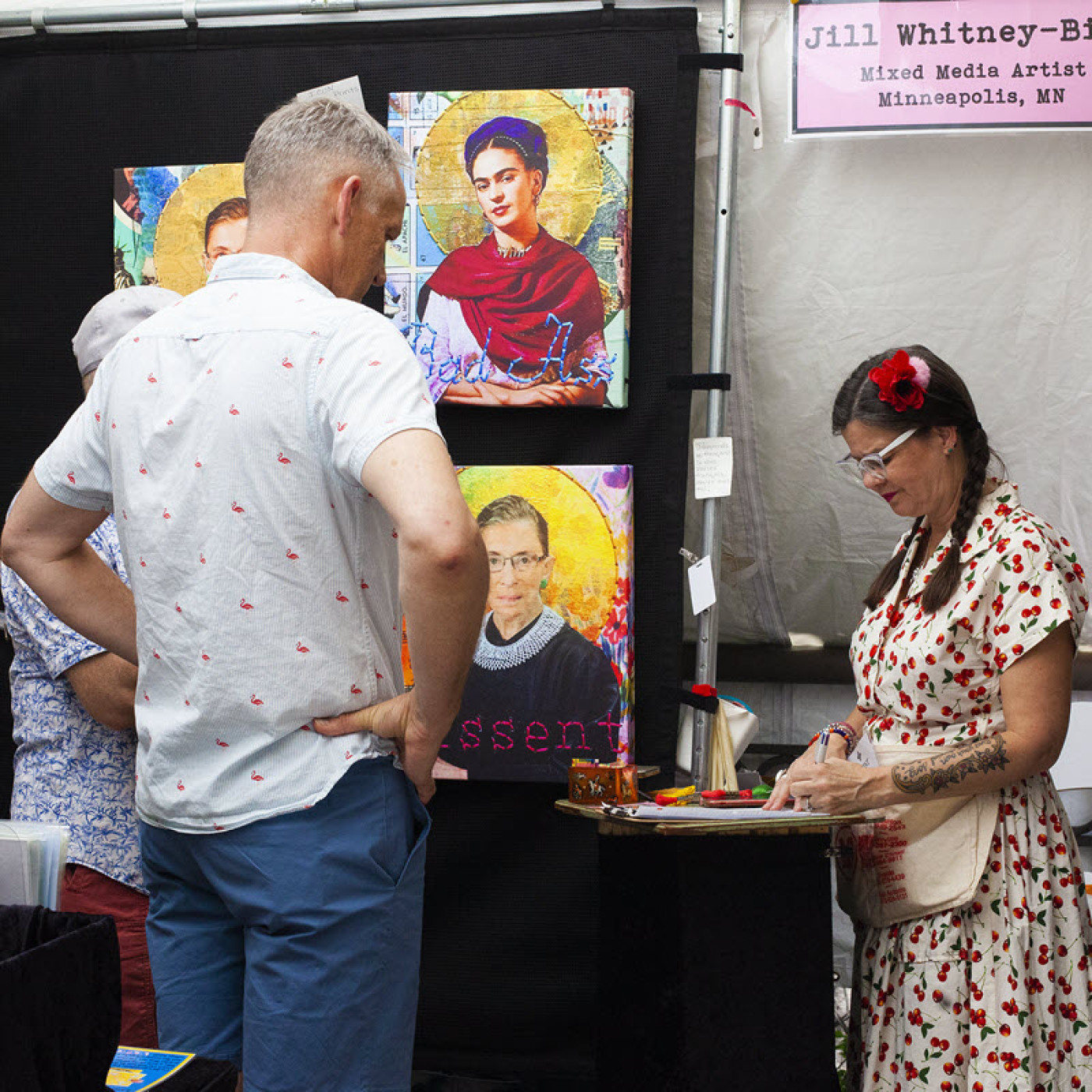 Post-Show Report
Sara Collins is the director of the Stone Arch Bridge Festival, and she said they were happy with this year's artist and public response. "We've had a couple of extra challenging years beyond the typical COVID-19 shutdowns. The biggest challenge is learning to use a new space," Collins said. "For 25 years, we were on the east bank of the river, and now we've moved to the west bank. Our new spot on the edge of downtown will be a great location going forward, and we have some work to do on learning the best use of space. Also, it was almost 100 on Sunday, so that is tough on sales." 
Attendance for this year's festival was estimated at 60,000. She said 2021's festival was "epic, so comparing this year, we didn't see the same success. We heard comments about the economic downturn and the heat affecting sales." 
She said something learned this year that will improve future shows is to continue to work on the layout and the load-in/-out processes. The best improvement made that others might learn from was the success of their early packet pickup, Collins said. "It was great having time to chat with artists before the crush of load-in," she said. 
Her message to those considering this festival is that "it's hard to say we are new because this was our 27th year — but our site is new. We are so confident that it's going to be better each year. The residential growth in the condos in this area is huge. Many artists talked to me about the change that they are seeing with customers coming from just a few blocks away to purchase for their homes/condos." 
SUBSCRIBERS CAN READ MORE SHOW REVIEWS HERE
NOT A SUBSCRIBER? SUBSCRIBE HERE