Florida Festival Is a Crowd Favorite
January 2023, by Angie Landsverk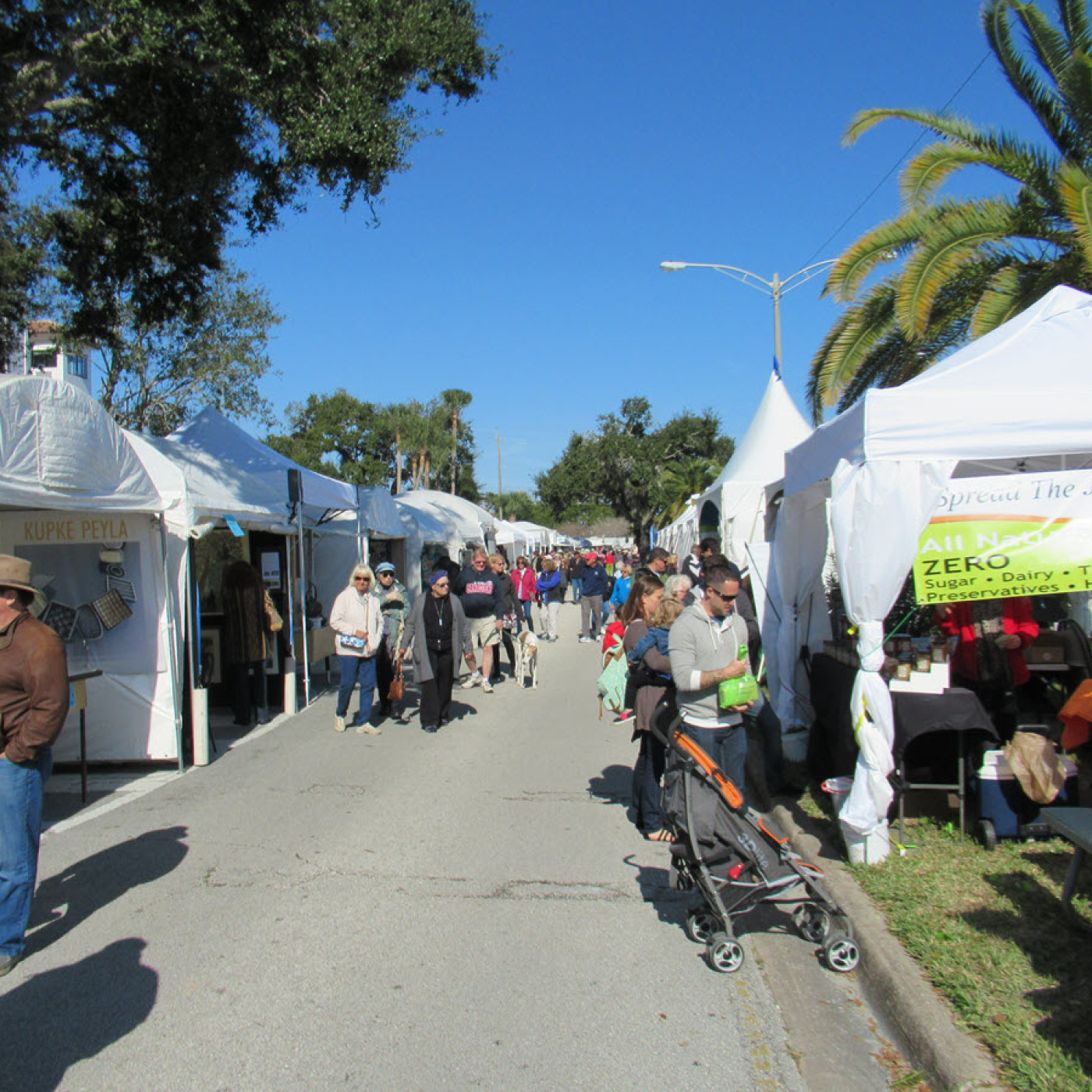 Patrons Program Continues To Grow
For close to 50 years, an arts festival on Florida's east central coast has attracted thousands of people who love and support the arts. 
The 47th Annual IMAGES: A Festival of the Arts is set for Jan. 27-29, in New Smyrna Beach. The community is south of Daytona Beach and among those ranked in John Villani's book 100 Best Small Art Towns in America. 
This juried fine art festival features the work of 230 artists, as well as food trucks, live music, a wine and spirit garden, free art projects for children, and an exhibit of student artwork. It ranked FA46 in 2022's 200 Best list. 
IMAGES Coordinator Nance Casey Koch has advice for those who want to be in the show. "I tell each first-time applicant to submit their best quality images of their work. We require three photos of their work and one of their booth space," she said. "With a blind jurying application process such as ours, these photos make the most impact to the jurors." 
She encourages those who have not participated for a few years to apply again. "Each year, our jurors and judges are new and everyone that applies has the same opportunity. The judges all have a unique perspective and respect the work of all artists," Koch said. "We also continue to see tremendous growth in our popular Patrons Program; patrons can purchase artwork from any artist, translating into a 'selling' show for most of the artists." 
She said artistic excellence and community involvement have always been the festival's hallmark. The first IMAGES featured about 200 artists, with a total of $6,000 in prize monies. 
The late Doris Leeper, a sculptor and painter who lived in New Smyrna Beach, was among those who founded IMAGES in 1976. The first festival was held in early 1977 and was a precursor to her vision for Atlantic Center for the Arts (ACA), an artists-in-residence community. 
After the original IMAGES concept expanded to include the notion of such a community, two boards formed. That was in 1979, with one to oversee the festival and the other to develop Atlantic Center for the Arts. The center became the festival's presenting organization in 2004. 
Today, the festival offers more than $30,000 in prize monies and outstanding artist hospitality amenities, Koch said. More than 500 community members support the Patrons Program, pre-committing to spend more than $200,000 on art at the festival, she said. 
Koch said the in-booth judging system they implemented about six years ago has made a tremendous difference to the artists. "Two judges are commissioned to visit each booth and judge the work based on four criteria on which they score each artist. This process allows for every artist's body of work to be seen in its entirety and offers opportunity for the judges to ask questions and get to know the artist," she said. "This really evens the playing field for the awards, as every artist can showcase their work as a whole, not just one piece." 
IMAGES' marketing efforts include TV commercials, print advertising, e-blasts, social media, a website, and radio promotions. "Honestly, we feel word of mouth and our long history in the community is the way most people find us," she said. 
Presenting an outdoor fine art show is a year-long process, and she has advice for others who sponsor them. "Start your planning early, gather your group of dedicated volunteers (who really make it all happen!), start meetings, and laying out your process early. Connect with your community to gather their feedback, gain support, and partnerships. Most of all, we would say have fun!"  Koch said. 
Advice From IMAGES: A Festival of the Arts
Nance Casey Koch is sharing the three most important things they have learned through the years. Here they are: 
Going electronic made a difference. "When IMAGES began, the artists would submit their photos in the form of projector slides. The jurors would then view a slide show of all artist submissions, which we don't have to tell you was not the best quality," Koch said. "Since then, we have moved everything to electronic submission via ZAPPlication. It has been a game changer for the artists, judges, and the IMAGES staff!"

The Patrons Program has a large impact on the show. "The artists love to know that there are art enthusiasts ready to buy work from the moment the show opens. For the festival team, patrons act as ambassadors, spreading the word about the show and the program," she said. "For the patrons, it is an opportunity to come together to celebrate the arts each year. It has been one of the best ideas we have implemented."

IMAGES is a value not only to the artists but also to the community. "This is a family show that has become a tradition for many. IMAGES brings together our community and has a large economic impact on our local area that we are all very proud of," Koch said.