A Blooming Business
December 2022, by Diane Sulg
The old saying "timing is everything" is certainly true for Starr Collective. Jeannine Starr, founder and chief creative, is rapidly turning her startup business into an incredible creative enterprise. 
As a young woman, Jeannine designed clothing that she subsequently sold at trade shows to stores across the country. She left that enterprise to enter the business world, and for 23 years, she was a development officer at New York University. She loved that position and had no plans to leave it, when suddenly the pandemic hit New York City. 
Like millions, Jeannine found herself working from home, in a small New York City apartment. She was content but wanted some creative activity. She began to dabble in resin, making jewelry and small castings. When she opened an Etsy store, it unexpectedly became the highlight of her life. 
One weekend, as the pandemic was easing, Jeannine took her resin wares to the Houston Market. She never suspected it would be the turning point for her new hobby. A woman approached her holding a beautiful bouquet. It was her sister-in-law's wedding flowers, and she asked Jeannine if she knew how she could get them preserved. Not knowing anywhere in the city that could do it, Jeannine offered to give it a try. Jeannine says she was petrified at first, but the result was beautiful, and the customer was thrilled.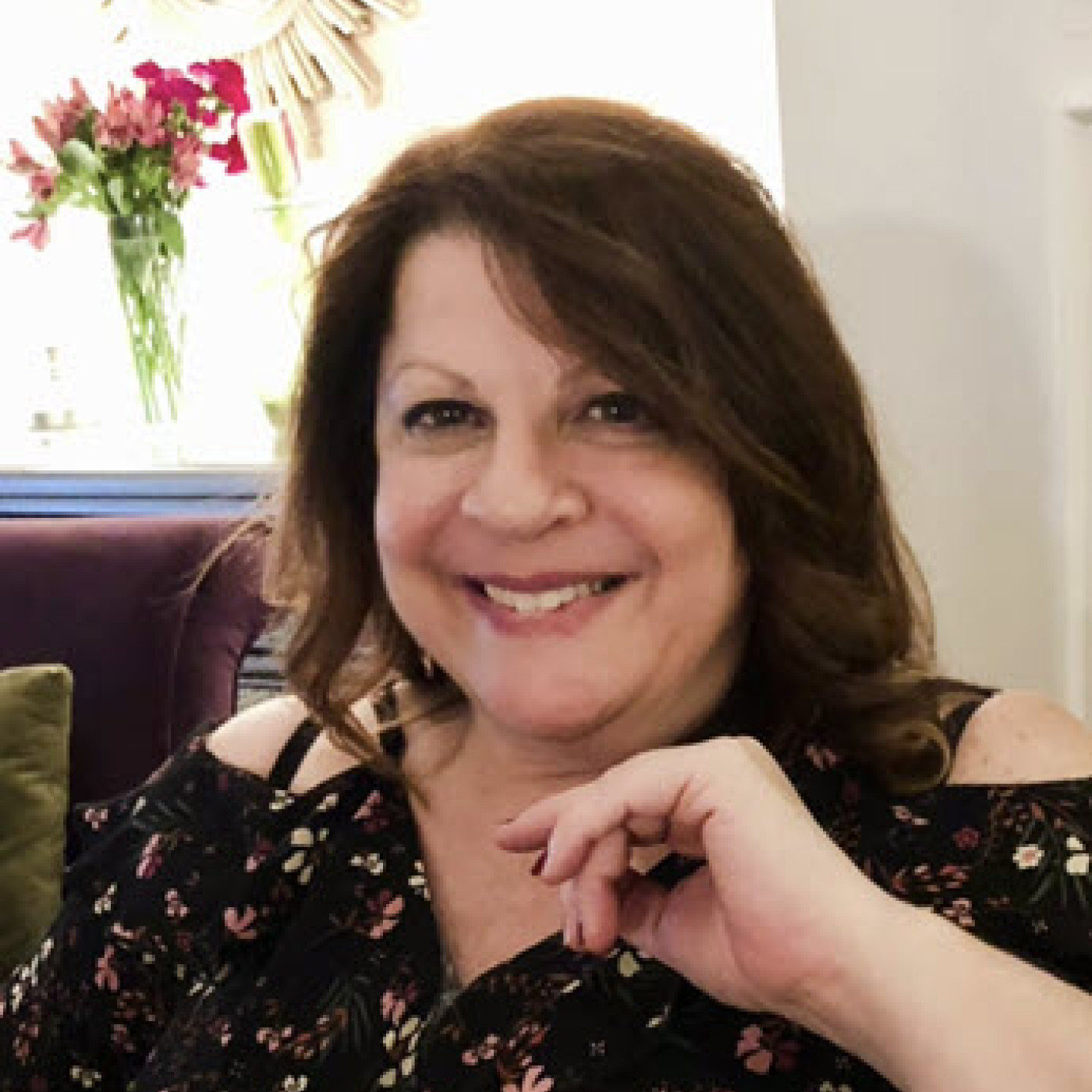 At the same time, Jeannine's two adult children were facing career decisions. Her daughter, Annie, had been a wedding consultant and saw her business devastated by the pandemic. Sam, Jeannine's son, was questioning his dangerous job as an iron worker. All three of them had an open window when they met for a "family business meeting." They plotted out a business structure and decided to forge ahead.  
The first move was to find a space for their new business. Again, timing was on their side. The usually astronomical New York real estate market had cooled during the pandemic. They found the perfect space right in the middle of the Flower District, and in addition to the workroom, there is even a retail shop. They renovated the space themselves and opened it in June.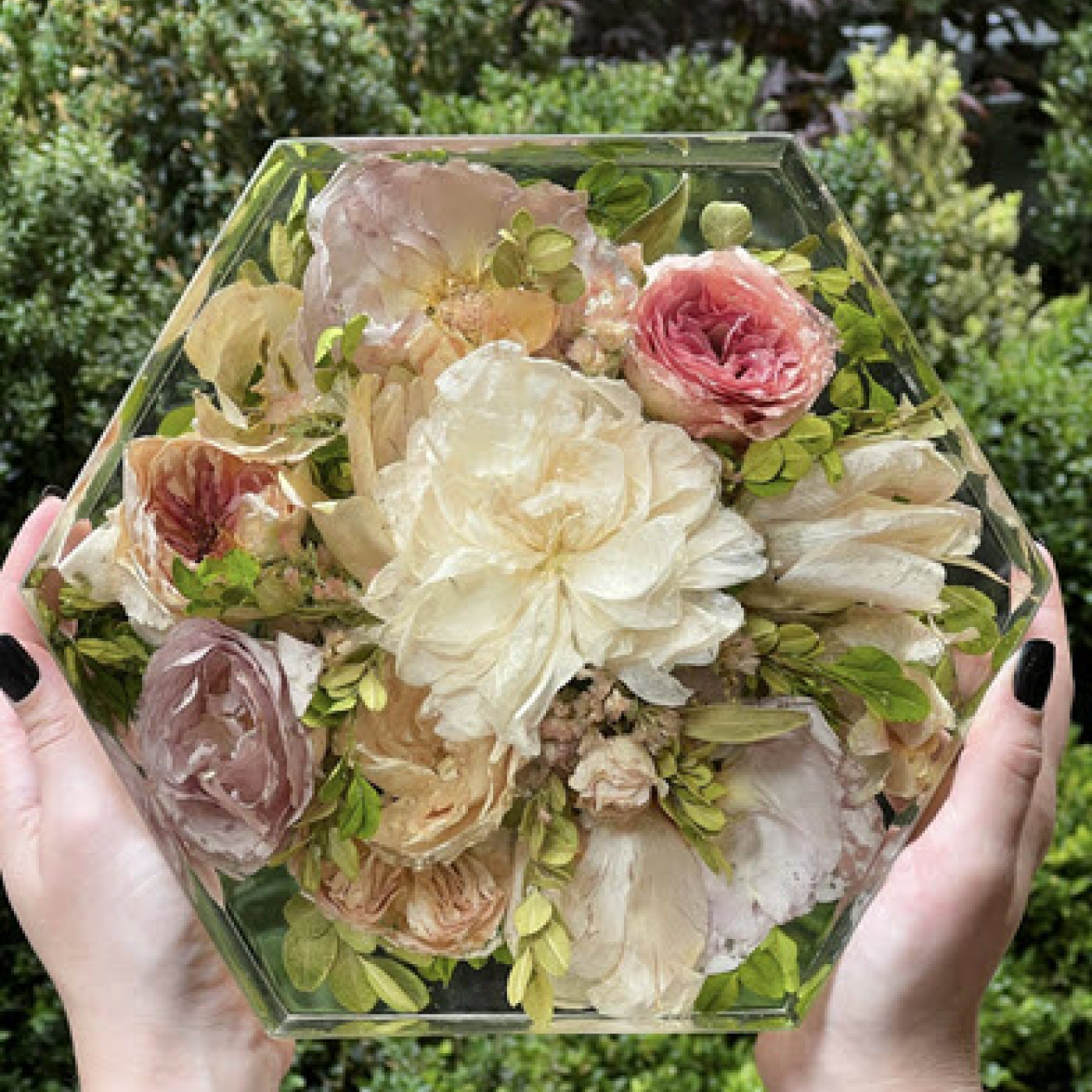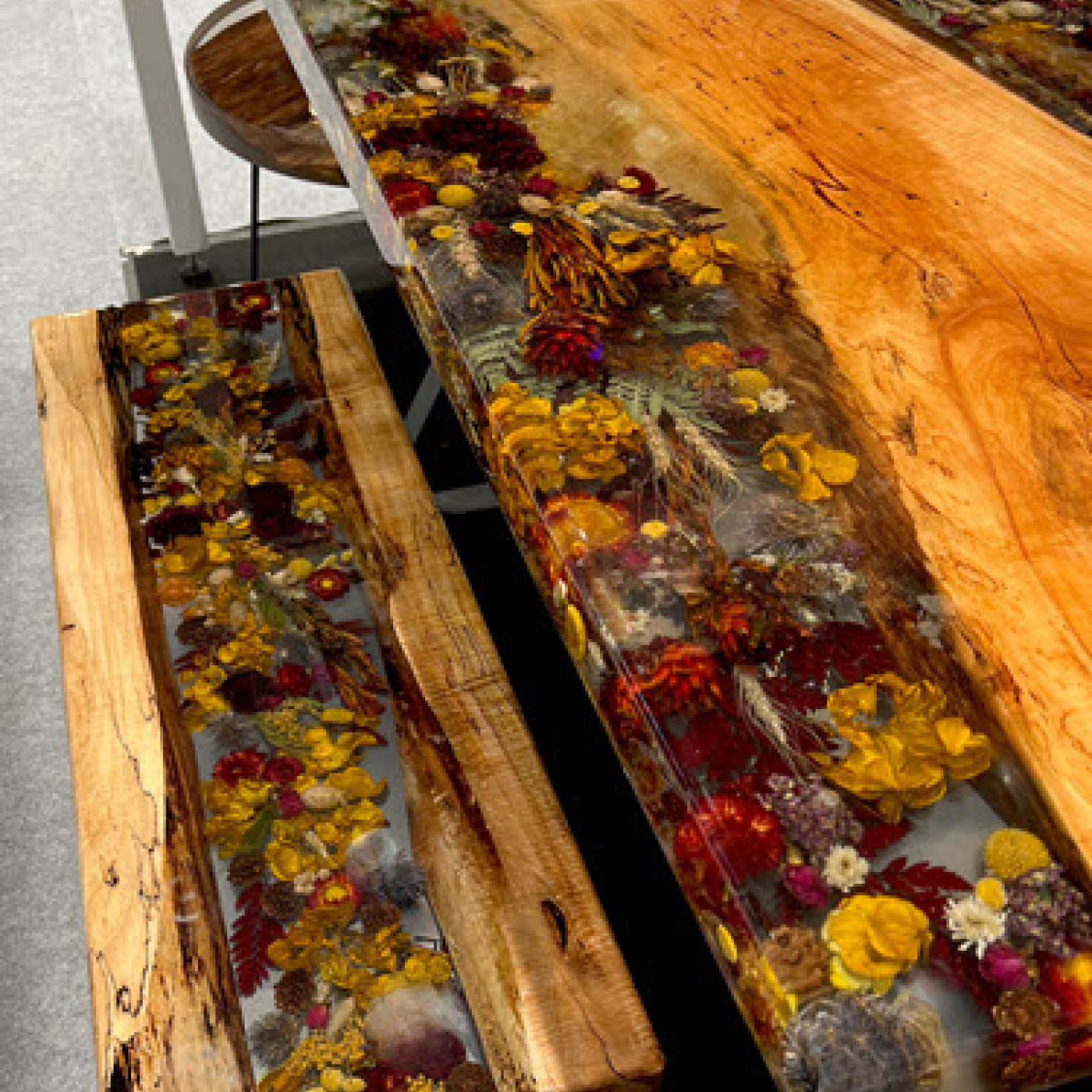 They immediately set their business plan in motion. Sam became the engineer and builder, designing and making incredible furniture, with resin-embedded blooms in both the table and benches. Located in the Flower District, they have a ready supply of gorgeous and exotic blossoms, many of which might be past their peak bloom but are perfect for floral preservation. 
Annie became the studio manager. With her experience in the wedding business, she guides newlyweds through a dazzling array of flower preservation. At the present time, they have nearly 100 bouquets in process. There is a 12-week turnaround, and the transformation requires both skill and patience. You can see the amazing results at jstarrnyc.com. 
Jeannine is the one "up to her elbows" in resin. She analyzes the best method of showing off each bloom, overseas the drying process, adds resin gradually in quarter-inch increments, and completes the "treacherous" final process of sanding and adding the topcoat without a speck of dust! 
In August, just two months after opening their shop, Jeannine took their art to the Javits Center for NY NOW. Remembering the trade show drill from her early clothing days, she developed a striking display, and Starr Collective enjoyed an amazing wholesale debut.  
Committed to following every promising business opportunity, Jeannine is excited about her unique company's future. In just months, Starr Collective has blossomed into an enterprise with retail, wholesale, wedding, furniture, and décor branches. It is indeed a blooming business! 
About the Author
Diane Sulg 
Diane Sulg is executive director of CRAFT and founder and co-chair of American Craft Week (ACW). She is a handmade advocate who provides valuable information in her one-day seminars titled "All About Wholesale" at wholesale shows throughout the United States. Diane is the former owner of Maddi's Gallery, in Charlotte and Huntersville, North Carolina. 
CLICK HERE TO READ MORE HeARTbeat Artist profiles