Woman Power
November 2022, by Diane Sulg
If women ever rule the world, I nominate Suellen Parker to be on the committee. Suellen is the owner of Case Island Glass and the creative genius behind its success. 
Suellen grew up in Flint, Michigan, at a time when women had limited opportunities. She followed a boyfriend to Boston for college, enrolling at Boston College, where females could only major in nursing or education. After deciding nursing was not for her, she settled into the only alternative — she was going to be a teacher! 
While in college, Suellen's best experience was her part-time job in a pottery studio. It was a very successful, female-owned studio that made functional ware. Suellen would show up, throw a hundred mugs, and get paid. She loved it. 
Following graduation, she moved back to Flint to help care for her father. She married and taught school. Along the way, she became a mother to three sons. When the auto recession hit Flint, she decided to look for a more stable profession and got accepted at Detroit Law School.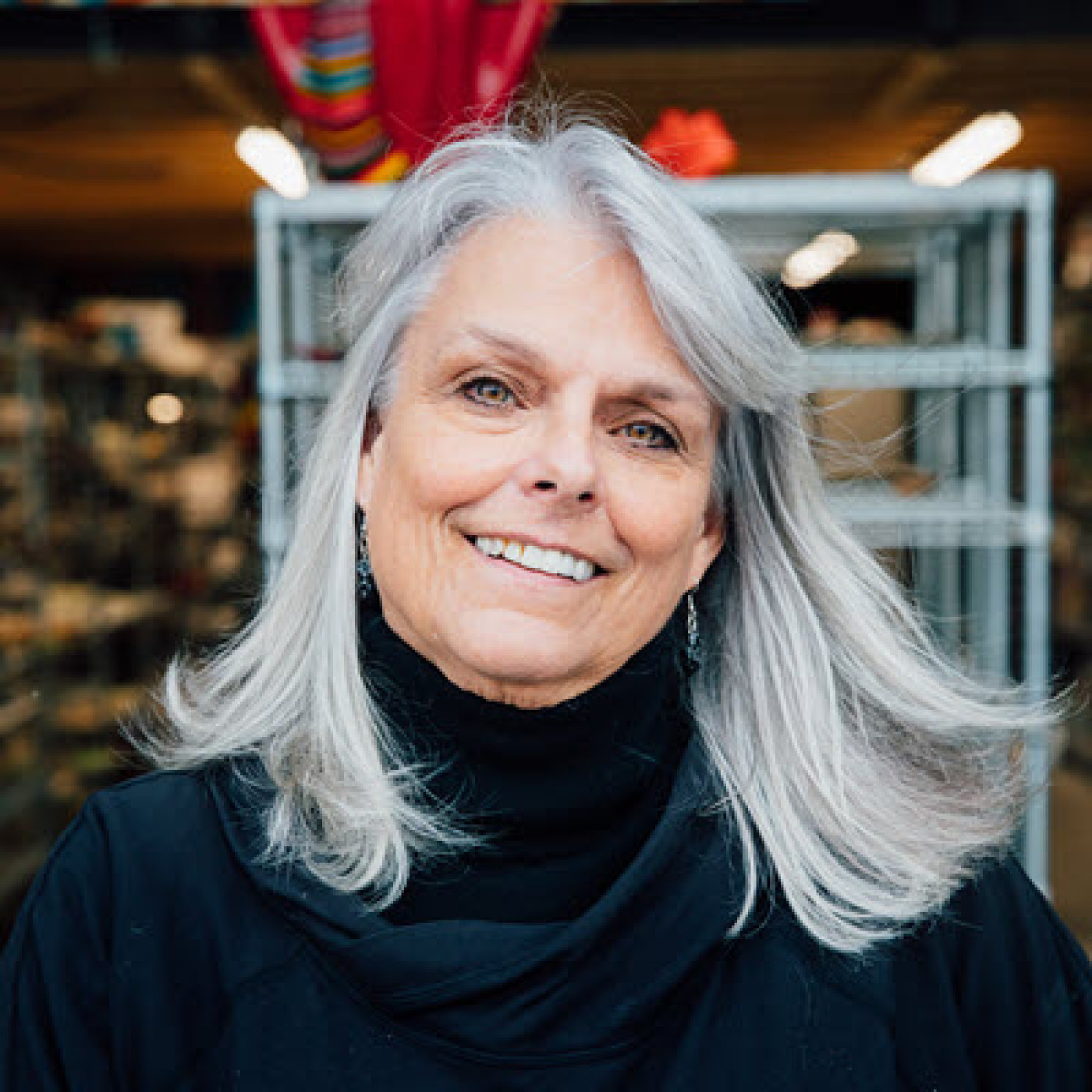 ow you might think being a lawyer didn't work out, and so she turned to making art. But oh no — she graduated, worked on some of the biggest cases in Michigan in the '80s, and became the first woman attorney at the largest firm there. However, she discovered the male lawyer club was very private and paid better, even though she handled more cases. 
She left to start her own practice, specializing in family law. As her boys grew older, Suellen invested in a kiln and made colorful glass mosaics in her spare time. Around 2006, she decided to apply to a one-day art fair in posh Harbor Springs. She got in, built a booth in her basement, and made $700 in one day. She was hooked. She was immediately juried into the prestigious One of a Kind Show in Chicago and then began to think about wholesale. Her Toyota pulled a trailer loaded with 5,000 pounds of glass through snow to the ACC show in Baltimore, and her glass business began in earnest.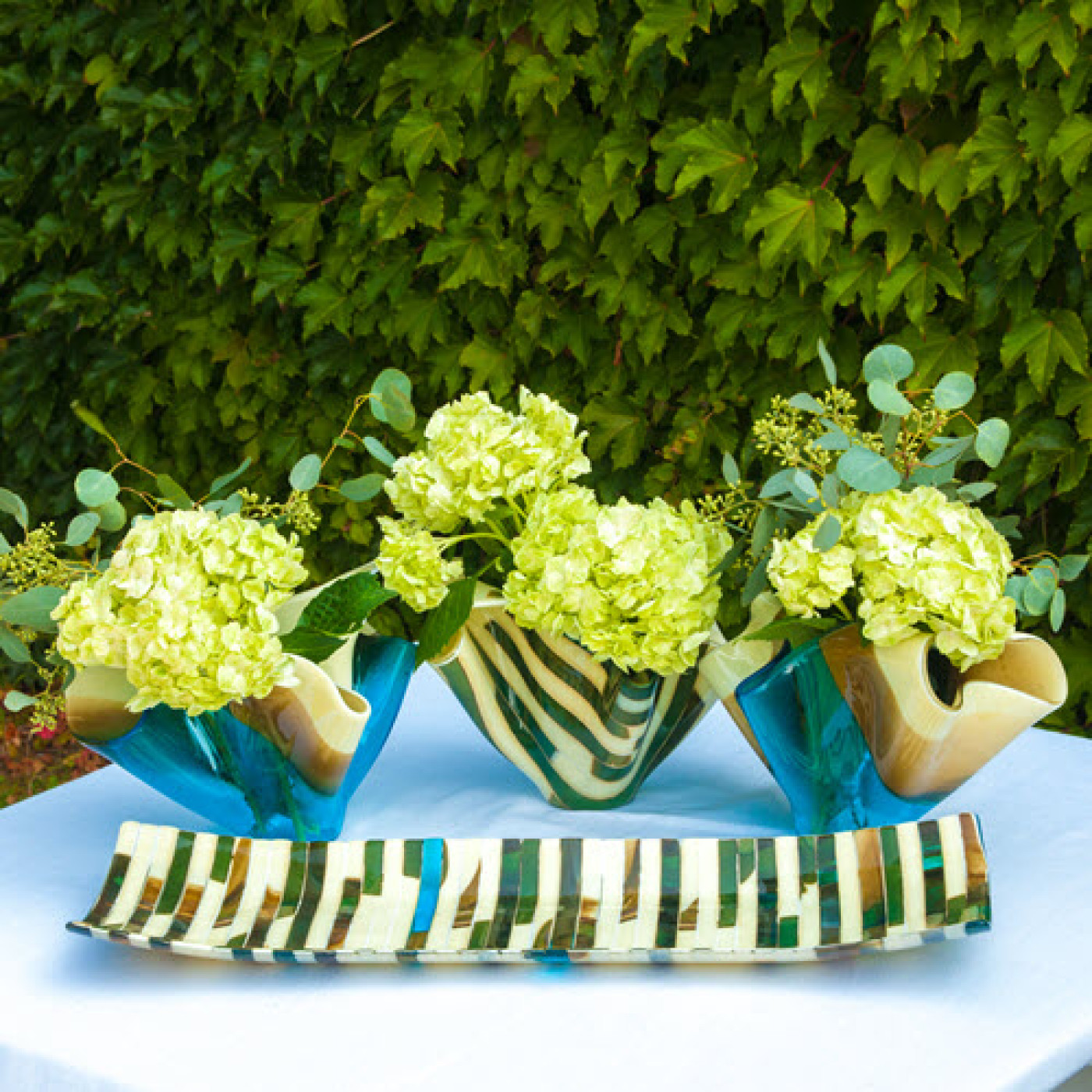 At this point when I was interviewing her, I asked Suellen if this is when she left her law practice. She seemed startled and said, "No, I had a trial yesterday, and I was in court this morning." And you think you're busy? 
Suellen does all the design work and supervises the production of her kiln-formed, mid-century glassware. The colors are vibrant, the designs are perfect for showcasing gorgeous food, and they often win product awards at major shows. Her inspiration comes from her mother, who had 12 sets of dishes and cooked great food. Suellen sees herself in the business of creating tablescapes for memorable events centered around wonderful meals. 
Occasionally, Suellen's two professions collide. While representing the wife in a divorce proceeding, the couple was having a huge fight about possession of a bowl. The husband had liked it, bought it, and given it to his wife. Neither would give up the bowl. Out of frustration, Suellen asked if they had a photo of the bowl, and when she saw it, she exclaimed, "I made that bowl!" Yes, the wife kept the bowl. 
Suellen's glass is in shops and galleries across the country. It is also available at caseislandglass.com. Her work is a testimony to her spirit, energy, and love of life. She has a rare intelligence, a quick wit, and an indomitable can-do spirit. In many ways, she has both cracked the glass ceiling and made her own, more beautiful one. 
About the Author
Diane Sulg 
Diane Sulg is executive director of CRAFT and founder and co-chair of American Craft Week (ACW). She is a handmade advocate who provides valuable information in her one-day seminars titled "All About Wholesale" at wholesale shows throughout the United States. Diane is the former owner of Maddi's Gallery, in Charlotte and Huntersville, North Carolina.