Using Demographics to Market Art and Craft Products
October 2021, by Angie Landsverk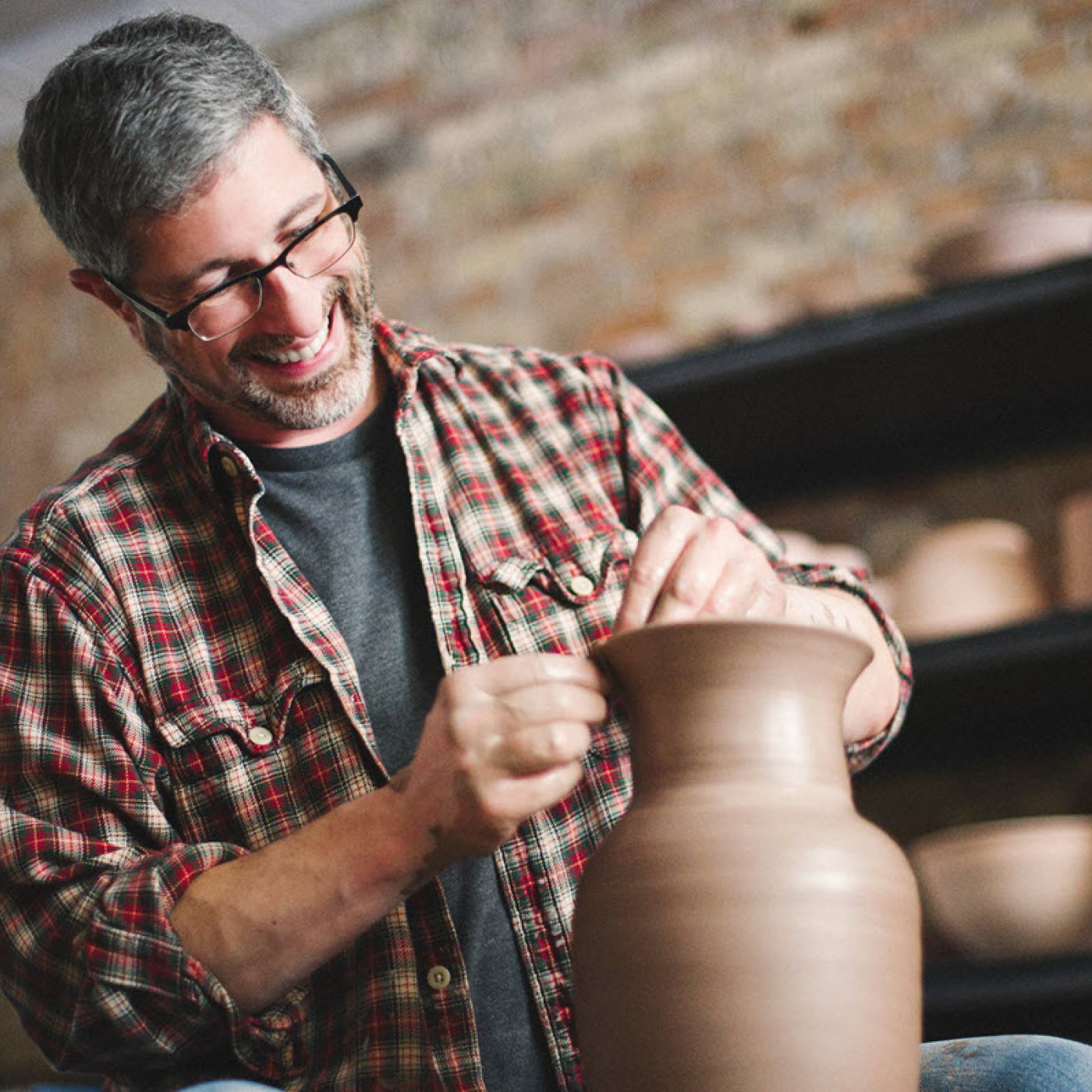 The power of observation has helped Scott Obernberger learn who buys his pottery, and he encourages other artists to do the same thing to figure out their demographics.
"Every single show you have is the perfect test market," he said.
Obernberger does 30 to 40 shows per year and has a studio and store in Racine, Wisconsin, called Twice Baked Pottery. Through "lots of observation," he has determined his demographic is middle to upper middle-class women ages 25 to 70.
Body language and actions provide clues about people and their interests. "When someone comes into your tent, watch what they gravitate towards, what color it is, what they pick up first, if they hang on to it, or put it down," he said.
Many of Obernberger's items are tactile. A painter pays attention to which pieces people look at. "If they're staring at a painting for a couple minutes, they like it," he said. "Go and talk to them about the process."
Before artists figure out who their customers are, they must first think about what they are selling. "It may sound silly, but everything you sell has a different demographic," Obernberger said.
For example, an artist who sells jewelry may attract both younger and older people. That artist may not see a lot of male customers, unless the man is looking for a gift, he said.
Obernberger provided an example of why it is important for artists to know both their products and their customers. A 75-year-old woman may walk into his tent and love his work but comment about how she is downsizing and does not have room for larger pieces.
In a case like that, he suggests buying a gift for someone or purchasing one of his smaller, useful items like an apple baker or garlic shredder. The apple baker may have the added benefit of prompting a memory from the woman's past.
Justify the Cost
When artists share their stories and explain how they create their work, people understand why an artist like Obernberger asks $20 for a mug. "They start to appreciate the concept of handmade," he said. "You have to justify why it costs more. A great way to justify it is to talk about the process. Plus, they have part of your story."
He stands at the front of his tent and greets those who visit it. Since many have asked if his pottery is food safe, Obernberger often brings it up himself and explains that his pottery is also microwave, oven, and dishwasher safe.
When appropriate — and if it feels comfortable — Obernberger shares part of his story. He tells people how this is a second career for him after being a criminal defense attorney for 18 years.
A mini stroke at the Milwaukee courthouse in the fall of 2014 resulted in his decision to shut down his law practice and turn what he described as a "pretty aggressive hobby" into a full-time business.
"Once they know more about you as an artist, a person, it becomes more interesting," Obernberger said. "That's the coffee mug that ex-lawyer made."
He said everyone likes to hear a story, and his is one of reinvention. "People like hearing about other people who have made a huge change," Obernberger said. That makes it a little easier for them to think about making their own changes.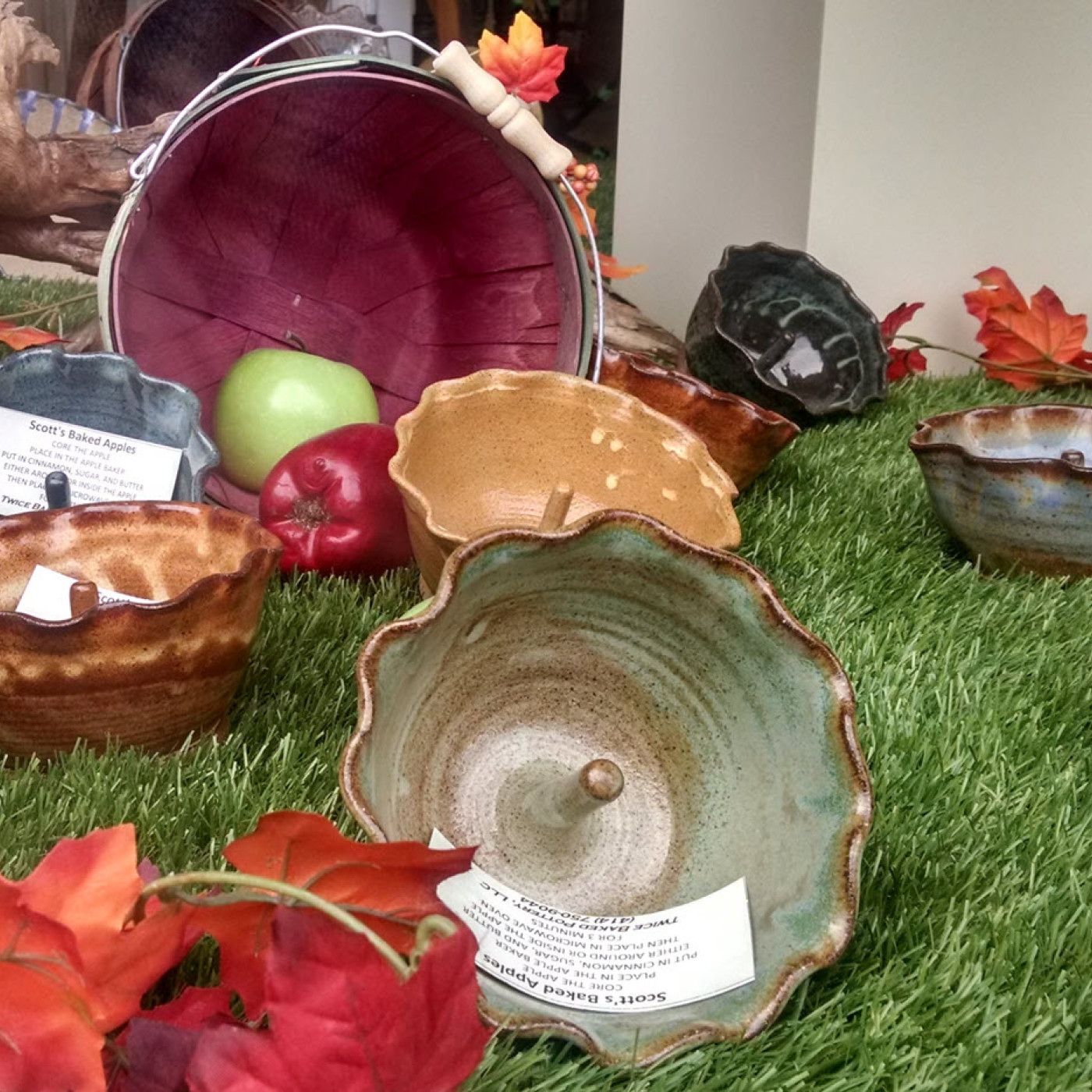 Marketing Advice
The more price variants an artist has, the better the artist's odds of making sales, Obernberger said. The most expensive item in his tent is priced at $175 and the least expensive at $4.
Some people see one of his lamps and know they cannot afford it now. They instead buy one of his mugs. "Have a 'wow' piece that draws someone in," Obernberger said. Having such a piece helps an artist sells other things, he said.
Obernberger encourages all artists to use Facebook for advertising. He uses Canva to design his ads. He advises starting with the free version but said a benefit of using the one that comes with a fee is that ads can be sized for anything and reused.
He posts the ads to his business Facebook page and pays $20 or $25 to set them up for a boost in the areas where he does shows. Because Obernberger knows his demographics, he targets women aged 25 to 65-plus.
Obernberger usually picks five days for the boost and has it end the day before the show's last day. "I will hit from 2,000 to 4,000 people," he said.
This advertising technique helps him hit his market and demographic in a timely fashion. And there is always at least one woman who walks into his tent and tells him the only reason she knew about the event was because she saw his ad on Facebook.
Another piece of advice Obernberger has for artists is to pay attention to how many people are carrying bags at shows. "You can tell right away if it's a good show by how many are carrying bags," he said. "That one is a pretty solid rule."
FOR MORE GREAT ADVICE, SUBSCRIBE NOW: Click here to subscribe
Scott's 10 Marketing Suggestions
Know Your Product
Is it artistic? Functional? Both? You can't pitch to someone if you can't explain the value and use of what you make.


Know Your Market
Are you selling in a city, a suburb, or a rural area? This does make a difference; for example, I make and sell bakeware and dinnerware. People in cities tend to eat out — they don't cook.


Know Your Demographic

Age, gender, and stages of life matter. Younger people have less expendable income and spend differently than those of us in our middle (or upper middle) age. Women tend to shop more than men. This information is important when assessing to whom, and how, you market.


Engage Your Customers

Whether in an art show or in a retail setting, your customers want to be acknowledged and treated with warmth. Interact with them and find out what they are looking for and what they want.


Share Your Story

Customers aren't just buying your art; they are buying a little bit of you. They want to know your story, how you became an artist, what speaks to you, and why you do what you do. Don't be afraid to let them get to know something about you and your craft.


Be Yourself

Always, always, always, be true to yourself. When you interact with customers, be natural and make the experience fun and memorable for everyone.


Always Be There Early

Never arrive late to a show. You will irritate the show organizers, and you will also miss out on opportunities to meet your customers. Oftentimes, shows allow patrons in early — where this occurs, you want to be ready for potential sales. Even when the show organizer doesn't allow early sales, it is good to make sure you are ready for the day. Early never hurts.


Advertise

Never just rely on the show organizer to do your advertising for you. I usually do a Facebook ad and boost it in the area where the show is going to occur. I am always amazed how many additional sales I make because I spent $25 on a boosted ad. If every artist did this, an area would be saturated with ads about the art show you are participating in, thus making people more likely to want to go. Seeing one artist is great. Knowing you can see 10, 25, or more increases the likelihood that people will show up. Collaborative advertising works.


Be a Presence

Don't hide in the back of your tent. Be approachable, greet your customers, and let them know you are there for them.


Offer Alternatives

Blue isn't what your customer wants? Then offer to see what else you have in stock. By offering your customer alternatives, you not only increase the chances of selling to them, you demonstrate that you are there to serve them and help them find the piece they like best.